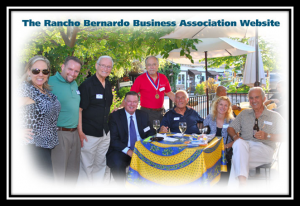 Dr. Larry M. Herring was named Honorary Deputy Mayor of Rancho Bernardo in 2011.  He ran in this election to raise money for the Miss RB scholarship Fund and the RB Community Foundation. In the photo above Dr. Herring is welcoming members of the Rancho Bernardo Business Association to a networking event this past month.
Dr. Herring was asked why he wanted to be the Honorary Mayor of RB.  He responded: I have been blessed with the opportunity to operate my chiropractic office for the past 22 years in the Rancho Bernardo area. During these years we have treated over 8,400 patients. My staff and I have often donated our time and resources to local non-profit organizations.  My participation in the Honorary Mayor of Rancho Bernardo campaign allows me to increase my service  to this fine  community. The funds raised from this campaign will be contributed to over 14 Rancho Bernardo non-profit organizations.
He was also asked about his history in the Rancho Bernardo community.  He responded: I moved to the area 22 years ago. My wonderful wife, Elissa, and I have raised four amazing children in this community. Herring Chiropractic has built a reputation for getting people out of pain fast. My dedicated staff lives near the office and are all part of the Rancho Bernardo Community. On an additional note, I might hold the national longevity in Indian Princess Y- Guides sponsored by the YMCA. I was in the program with each of my four children for a total of 16 straight years.
To learn more about Herring Chiropractic visit their web site at www.herringchiro.com.
Larry M. Herring, D.C. – Member of Pacific Coast Injury Group
15871 Bernardo Center Drive, Suite 105
San Diego, CA 92127
(858) 674-7200