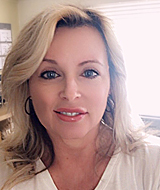 Kristy Cadava, D.C., Q.M.E.
Doctor of Chiropractic, Qualified Medical Evaluator
Available on Lien - Serving Southern San Diego, South Bay and Imperial Beach
1676 Palm Avenue
San Diego, CA 92154
Driving Directions
Phone: (619) 423-3217
Web Address: DrCadava.com
See some of the testimonials Dr. Cadava has received.
As a graduate of Palmer College of Chiropractic-West, with an undergraduate major in Biology from UCSD, Dr. Cadava relies on evidence-based care in order to best provide recommendations and treatment based on the best available scientific evidence.
Dr. Cadava not only specializes in car accident injury (personal injury) care on lien but also brings extensive experience working with injured workers and is a well respected treatment provider working with many of San Diego's best Worker's Compensation attorneys.
Included in her many specialized continued education and certifications are:
Medical-Legal and Disability Evaluation Report Writing
Disorders of the Spine
Extremity Evaluation
Radiology: Spinal Trauma, X-ray Diagnosis, and Axial Spine Arthritides
Whether you are seeking help with a personal injury, workplace injury, sciatica, neck pain or headaches, Dr. Cadava's personal mission is to provide excellence in patient care through a collaboration with her patients.
Doctor Cadava has established a solid reputation in specializing in and treating:
Auto Accident Treatment and Recovery
Work Place (Workers' Compensation) Injuries
Low Back Pain and Sciatica
Neck and Upper Back
Headaches including Tension and Migraines
Some of the techniques and special services offered at Cadava Chiropractic:
Thompson Drop Technique
Diversified
Auto Accident Treatment
Gonstead
Activator Methods
Some of the modalities offered at Cadava Chiropractic:
Electrical Stimulation (E-stim)
Therapeutic Exercises
Mechanical Traction
Hot/Cold Packs
To learn more about how chiropractic care and treatment can help you and your specific health problem call for your appointment today.
From the North:
I-5 Take Exit 5A for CA-75/Palm Avenue
Turn right onto CA-75/Palm Avenue
Proceed .5 miles to the office which will be on the right
From the South:
I-5 Take Exit 5A for CA-75/Palm Avenue
Turn left onto CA-75/Palm Avenue
Proceed .5 miles to the office which will be on the right
Pacific Coast Injury Group is proud of a long standing history of our chiropractors working co-operatively on lien with many individual lawyers and large law firms. Our group of chiropractors are available on lien to your attorney to provide personal injury and worker's compensation care and reporting.
See our Map & Locations page to find a chiropractor near you in San Diego, Imperial or Riverside County.