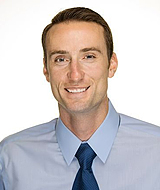 Ryan Curda, D.C.
Doctor of Chiropractic
Available on Lien - Serving Pacific Beach, Mission Bay and South La Jolla
4747 Mission Blvd. #1
Pacific Beach, CA 92109
Driving Directions
Phone: (858) 866 3345
Web Address: PersonalizedChiropractic.com
2015 Winner of the Patients Choice Award for San Diego Chiropractor and an active member of the California Chiropractic Association, Dr. Curda's practice takes a whole-body approach to healing rather than just on focusing on localized symptoms.
Dr. Curda not only specializes in car accident injury care but he also brings extensive experience working with athletes for increased competitive performance and for rehabilitative purposes.
Dr. Curda's thorough screening process is designed to both diagnose and develop a personalized treatment plan for each of his patients. He shares their goal of accomplishing a pain free life through both treatment and prevention.
Whether you are seeking treatment for whiplash, auto accident injury, sports injury and conditioning, seeking relief from aches and pains, or simply want to improve your overall health, call Dr. Curda today to learn what treatment plans are best for you. Click to see testimonials from many of the satisfied patients he has treated.
Doctor Curda has established a solid reputation in specializing in and treating:
Auto Accident Treatment and Recovery
Sports Injuries
Low Back Pain and Sciatica
Neck and Upper Back
Headaches including Tension and Migraines
Spinal Screenings
Lifestyle and Nutritional Coaching
Some of the techniques and special services offered at Personalized Chiropractic:
Active Release Technique "ART"
Diversified Technique
Auto Accident Treatment
Acupuncture and Massage Practitioners Available
To learn more about how chiropractic care and treatment can help you and your specific health problem call for your appointment today.
From the North:
I-5 Take the Balboa/Garnet Exit
Turn right on Garnet
Turn right onto Soledad Mountain Rd.
Turn left onto Beryl St.
Turn right onto Foothill
Turn left onto Loring
Turn left onto Bayard
Turn right on Mission
From the South:
I-5 Take north to Grand Ave./Garnet Exit
Merge onto Mission Bay Dr.
Slight left onto Grand
Turn right onto Mission Blvd.
Pacific Coast Injury Group is proud of a long standing history of our chiropractors working co-operatively on lien with many individual lawyers and large law firms. Our group of chiropractors are available on lien to your attorney to provide personal injury and worker's compensation care and reporting.
See our Map & Locations page to find a chiropractor near you in San Diego, Imperial or Riverside County.