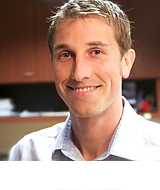 As a chiropractor located in Carlsbad, Dr. Paul Hodgson owner of New Wave Chiropractic not only specialize in car accident injury care on lien, but also focuses on thorough diagnosis and treatment planning to best meet the individual needs of all of his patients.
A graduate on Life Chiropractic West and holding a B.S. with emphasis on physiology, kinesiology and biomechanics gives Dr. Paul Hodgson a unique perspective in his daily work at New Wave Chiropractic Center. Working with patients in all phases of their life from infants to seniors citizens, Dr. Hodgson specializes in problems involving cranial bones, neck, low back and TMJD.
Dr. Paul Hodgson is also an accomplished speaker and educator who has presented to public organizations, doctors, students, and businesses on a wide variety of health-related topics.
New Wave Chiropractic Center has an established a solid reputation in specializing in and treating:
Auto Accident Treatment and Recovery
Low Back Pain and Sciatica
Neck and Upper Back
Headaches including Tension and Migraines
Lifestyle and Nutritional Coaching
Sports Injuries
To learn more about how chiropractic care and treatment can help you and your specific health problem call, for your appointment today.
From the North:
From the I-5 Exit Palomar Airport Road East to Paseo del Norte.
Turn right (south) on Paseo del Norte
Office is on the left next to Tip Top Meats
Pacific Coast Injury Group is proud of a long standing history of our chiropractors working co-operatively on lien with many individual lawyers and large law firms. Our group of chiropractors are available on lien to your attorney to provide personal injury and worker's compensation care and reporting.
See our Map & Locations page to find a chiropractor near you in San Diego, Imperial or Riverside County.