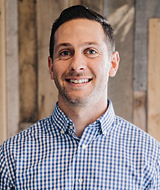 Dr. Parlett, a grew up in San Diego and always knew he wanted a career in healthcare. Following his own exceptional experience with chiropractic care and appreciating its focus on both healing and preventative care, he enrolled in Life Chiropractic West in Hayward, California where he received his Doctor of Chiropractic degree.
With a strong spirit of giving back, Dr. Parlett has participated in several trips to El Salvador where he volunteered his time to provide care to both the military and civilian communities. While there he treated hundreds of patients each week.
Life Source features state-of-the-art diagnostic tools such as on-site, advanced digital X-ray and computerized thermography.
In addition to working with personal injury patients, Dr. Parlett has furthered his education and earned additional certifications including the Webster Technique, a highly specialized approach to prenatal chiropractic care which provides an optimal and comfortable pregnancy. Seeing a need for the entire life spectrum, Life Source features chiropractic care and techniques designed to meet the unique needs of the senior community.
When not in the office treating patients, Dr. Parlett is an avid outdoorsman who enjoys hiking, skiing and relaxing on the beach.
Doctor Parlett has established a solid reputation in specializing in and treating:
Auto Accident Treatment and Recovery
Sports Injuries
Low Back Pain and Sciatica
Arthritic Pain and Stiffness
Senior Care
Prenatal Care
Headaches
Extremity pain
Whether you're suffering from a recent injury or have endured years of chronic pain, Dr. Parlett and the staff at Life Source Chiropractic can help you feel better, move better and be better.
Some of the techniques and special services offered by Dr. Parlett in San Marcos:
Full Spine Diversified Technique
Auto Accident Treatment
Activator
Torque Release
Thompson Drop Table
Gonstead Technique
Extremity Adjusting
Chiropractic Biophysics
To learn more about how chiropractic care and treatment can help you and your specific health problem call for your appointment today.
From the 78:
Take San Marcos Blvd. West
Travel West 1/8th of a mile and turn right into Life Source Chiropractic
From Rancho Santa Fe:
Take San Marcos Blvd. East
Travel East approx. 1.5 miles and left into Life Source Chiropractic
Pacific Coast Injury Group is proud of a long standing history of our chiropractors working co-operatively on lien with many individual lawyers and large law firms. Our group of chiropractors are available on lien to your attorney to provide personal injury and worker's compensation care and reporting.
See our Map & Locations page to find a chiropractor near you in San Diego, Imperial or Riverside County.